World Bird is a race of creatures exclusive to multicolored cards.
Gameplay
This race is featured on only 3 cards:
They each feature all 5 of the different civilizations (Light, Water, Darkness, Fire and Nature).
Nomenclature
They each have "Miracle" (ミラクル, Mirakuru) in their card names.
Support
World Birds don't feature any support cards or evolution creatures.
Example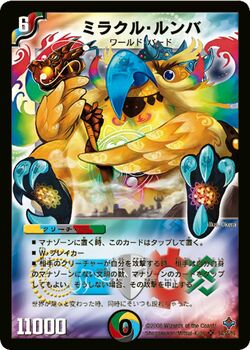 Ad blocker interference detected!
Wikia is a free-to-use site that makes money from advertising. We have a modified experience for viewers using ad blockers

Wikia is not accessible if you've made further modifications. Remove the custom ad blocker rule(s) and the page will load as expected.