White Knight
Talk

0
11,887pages on
this wiki
White Knights are an archetype of Light creatures that were introduced in DM-32 Evolution Saga.
DM-33 Rising Dragon started to give them different abilities for your other White Knight creatures such as untapping them at the end of the turn (Wiz, White Knight Enlightener) or adding cards to your shields if they are a White Knight (Sterios, White Knight Guardian). Cards like Pillar of Feather, White Knight Fortress allow you to increase their power as well as lower their cost.
Many White Knight creatures are either
Blockers, or can only evolve from blockers. White Knight creatures also tend to be Angel Commands, however many other races such as Guardian, Initiate, Mecha Thunder or Light Bringer are also included. Apollonia Dragon, Great Mecha King and Lunatic Emperor have also been featured.
They are the Light equivalent of the Darkness civilization Reaper archetype. Both are rivals fighting a violent battle against each other.
The White Knights are said to have saved the world by using their magic to stop Original Heart, which had been turned into a giant bomb.
| Support Card: | Card Effect: |
| --- | --- |
| Astinos, White Knight Spirit | When summoned, reveal the top 4 cards of your deck. Put 1 of these cards with White Knight in its name into your hand. Then, put the rest on the bottom of your deck in any order. |
| Natalia, White Knight Light Weapon | All your White Knight cards get "shield trigger". |
| Pillar of Feather, White Knight Fortress | Your White Knight creatures may cost 1 less and get +3000 power and "blocker". |
| Sterios, White Knight Guardian | When attacking, reveal the top card of your deck. If it's a White Knight, add it to your shields. |
| Ulferios, White Knight Infinity Dragon | Meteorburn — When attacking, you may put 1 card under this creature into your graveyard. If you do, reveal the top 2 cards of your deck. You may put any creatures with White Knight in their names into the battle zone. Put the rest on the bottom of your deck in any order. |
| Wiz, White Knight Enlightener | At the end of your turn, untap all of your White Knights. |
| White Knight Gate | You may put a White Knight into the battle zone from your hand. |
| White Knight Spark | At the end of your turn, untap all of your White Knights. |
Creatures that evolve from White Knights
List of White Knight Cards
Edit
Creatures
Evolution Creatures
Spells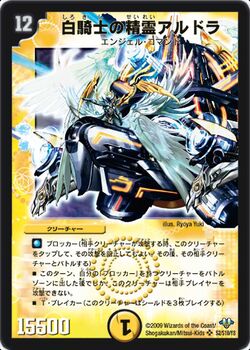 White Knight
Creatures
Aldora, White Knight Spirit ● Astinos, White Knight Spirit ● Cobalt Ulpherion, the White Knight Lord of Spirits
Effia, White Knight Oracle ● Eternal Moon, the Enlightened White Knight ● Gravitius, White Knight Spirit
La Jeanne, White Knight ● Leonidas, White Knight Spirit ● Makkor, Impregnable White Knight
Natalia, White Knight Light Weapon ● Sepa, White Knight Monk ● Sterios, White Knight Guardian
Tirios, White Knight Oracle ● Ulferios, White Knight Infinity Dragon
White Knight HEAVEN, Lord of Spirits ● White Knight Ulphas, Lord of Spirits ● Wiz, White Knight Enlightener
Support
Pillar of Feather, White Knight Fortress ● White Knight - Atomic Gainer
White Knight Gate ● White Knight Spark