S-Rank Invader is a race of Invader creature shared between the Water, Darkness, Fire and Nature civilizations.
Details
Water creatures are based on aliens. They are led by Magic Commands and feature effects based on Deck-outs.
Darkness creatures are based on zombies. They are mostly based on various former invader heads and have effects that are based on removal or the graveyard.
Nature creatures are based on cavemen. They are led by Guerrilla Commands and have 3 to 3000 power as well as effects relating to the number of creatures in the battle zone, referencing their inability to count more than 3.
Nomenclature
Evolution creatures have S級 (S-Rank) as a suffix.
Water creatures have 宇宙 (Space) as a suffix and have names that are related to UFOlogy.
Darkness creatures have 不死 (Zombie) as a suffix and have names related to death.
Nature creatures have 原始 (Tribe) and have names based on the number three.
Gameplay
Their evolution creatures mostly have the S-Rank Invasion ability word, similar to normal Invasion but being able to bring them out from an additional zone other than hand.
They are paired with the following races;
Story
They were new invaders that were created by a new S-Rank Invader virus.
Support
S-Rank Invaders don't feature any support cards
Evolution Creatures
(These creatures may not evolve from their respective race.)
Example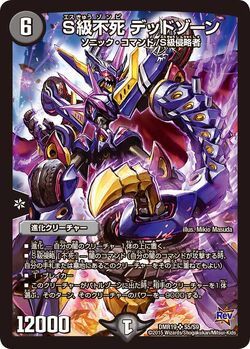 Races shared between the Civilizations
Ad blocker interference detected!
Wikia is a free-to-use site that makes money from advertising. We have a modified experience for viewers using ad blockers

Wikia is not accessible if you've made further modifications. Remove the custom ad blocker rule(s) and the page will load as expected.