Mana evolution is an evolution keyword mostly exclusive to Nature Civilization evolution creatures.
Details
Rather than evolving over a creature in the battle zone, an evolution creature that has Mana Evolution is put into the battle zone over one of your creatures in the mana zone.
This is a good way of evolving creatures as there is no worry of keeping evolution bait alive and these creatures do not get summoning sickness as they are still evolution creatures, making them suitable for types of Beatdown and Rush. It does use up valuable mana, however.
Reminder Text
The latest reminder text for Mana evolution reads;
Mana evolution—Choose a CIVILIZATION creature in your mana zone and put this creature into the battle zone on top of that creature.
Example
Ida, the Great Enigma
Nature / Creature / Giant / Samurai / 5 / 7000
■ Mana evolution—Choose a nature creature in your mana zone and put this creature into the battle zone on top of that creature.

■ Double breaker (This creature breaks 2 shields.)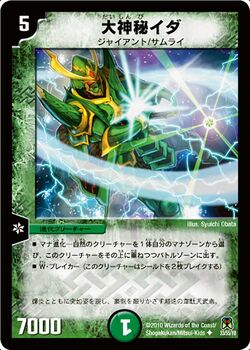 Cards with the Mana evolution ability
Color percentages
There are a total of 9 cards with the Mana evolution ability, which divide by civilization as such: