Machine Hero is a race that is shared between the Light and Water civilizations.
Gameplay
This race is introduced as part of the cycle of races during the Phoenix Saga.
Some Machine Heroes have effects that go work together with Great Mecha King.
Nomenclature
Water creatures often have Commander (コマンダー, Komandā) in front of their names
Light creatures often have Captain (キャプテン, Kyaputen) in front of their names.
Support
See also: Support for Hero
| Support Card: | Card Effect: |
| --- | --- |
| Captain Million-Parts | Each Great Mecha King and Machine Hero in the battle zone has "blocker." . |
| Omegablack Z, Invincible Giant | Whenever this creature attacks, you may reveal the top 4 cards of your deck. You may add a Great Mecha King or a Machine Hero to your hand, and put the rest on the bottom of the deck in any order. |
| Mobile Stronghold Plamilion | When you put this creature into the battle zone, look at 3 of your shields. You may choose a Machine Hero that costs 3 or less and put it into the battle zone. If you do, add the top card of your deck to your shields face down. |
Creatures that evolve from Machine Hero
Example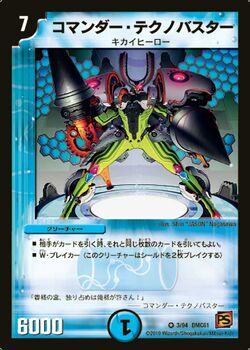 Races shared between the Civilizations
Ad blocker interference detected!
Wikia is a free-to-use site that makes money from advertising. We have a modified experience for viewers using ad blockers

Wikia is not accessible if you've made further modifications. Remove the custom ad blocker rule(s) and the page will load as expected.