"

The victims of the

Aliens

attack swore revenge.

These warriors called Hunters boasted incredible power.

"
Hunter is a race of creature that is shared between all civilizations.
Gameplay
They often feature the Hunting ability which gives the Hunter creature +1000 power for each of your hunters (including itself) in the battle zone whenever it battles.
Story
While they were the enemies of the Aliens in Episode 1, they joined forces in order to combat against the Unknowns, Unnoises, and Zenith creatures during the events of Episode 2.
They are identified with a scar on their chests.
In the Duel Masters Victory anime series, they are used mainly by Katta Kirifuda and his friends.
Support
| Support Card: | Card Effect: |
| --- | --- |
| Achoppi Chonan | ■ When you put this creature into the battle zone, choose one of your Hunters in the battle zone. That creature gets "Speed attacker". |
| Aqua Attack | ■ Whenever one of your Hunters win a battle, you may look at the top 2 cards of your deck. Put a card into your hand and the other card on the bottom of your deck. |
| Aqua Attack (BAGOOON Panzer) | ■ Your Water Hunters can't be attacked. |
| Aqua Jet | ■ Draw a card for each of your other Hunter creatures in the battle zone. |
| Blazing Boss! Vals Kaiser | ■ Whenever one of your Hunters attacks, put the top card of your deck into your graveyard. If that card is a non-evolution Hunter creature that costs less than the attacking creature, you may put it into the battle zone. |
| Change of Mind! Bakel, Cloud Ogre | ■ When this creature is destroyed, search your deck. You may take a Hunter from your deck, show it to your opponent, and put it into your hand. Then shuffle your deck. |
| Command of the Gang Leader | ■ Look at the top 5 cards of your deck. Choose a Hunter creature from these, and put it into your hand. Put the rest into your deck. |
| Dragonfriend Kachua | ■ When you put this creature into the battle zone, look at the top 7 cards of your deck. From there, you may put a non-evolution Dragon Hunter creature that costs 7 or less into the battle zone. Then, shuffle your deck. That creature gets "speed attacker" until end of turn. At the end of that turn, destroy that creature. |
| Experience the Miracle! Re Born Kaiser | ■ Whenever this creature attacks, you may put a Hunter that costs 4 or less from your graveyard into the battle zone. |
| Funk Clap Rhapsody of Hope | ■ When one of your Alien or Hunter creatures would be destroyed, search for a card that has the same name from your deck, hand or mana zone and put it into the battle zone. If you viewed your deck, shuffle your deck. |
| Fused Dreadnought! Jet Cascade Attack | ■ Your Hunters can't be attacked or blocked. |
| Gaial Diez | ■ When a card is put into your hand from your shields, if it is a cost 5 or less fire Hunter, it gets "shield trigger". |
| Galaxy Falcon, Counterattack Fortress | ■ Your Hunters get "Speed attacker". |
| Go On Pippi | ■ Your creatures that have both Dragon and Hunter races gets "Speed attacker". |
| Go Hunting Kaiser | ■ When your Hunters battle, unless that creature has "hunting," it gets "hunting." |
| Golden Victory, Secret Ogre | ■ Reveal the top 3 cards of your deck. You may put any number of non-evolution Alien or Hunter creatures from them into the battle zone. This turn, all of those creatures get "Speed attacker". |
| Handbell, Sanctuary Vizier | ■ Your other Hunters in the battle zone get "blocker". |
| Heehaw, Caterpillar Rider | ■ When this creature is destroyed, you may return a Hunter creature from your graveyard to your hand. |
| Hunter Fire, Secret Hunter | ■ Choose one of your opponent's creatures and one of your Hunter creatures in the battle zone, those two battle. |
| Hunting Gaia Egg | ■ At the start of your turn, put the top card of your deck into your graveyard. If that card is a non-evolution Hunter, you may destroy this creature. If you do, put the Hunter in the battle zone. |
| Ike Ike Pippi | ■ When you put this creature into the battle zone, one of your fire Hunter creatures in the battle zone can attack untapped creatures this turn. |
| Jin, the Ogre Blade ~Crimson Rage~ | ■ Whenever one of your fire or nature Hunters wins a battle, you may put a Hunter that costs less than that Hunter from your mana zone or hyperspatial zone into the battle zone. |
| Jin, the Ogre Blade ~Young Leader~ | ■ When you put this creature into the battle zone, you may put any number of nature Hunters from your mana zone into the battle zone tapped. |
| Kaiser Zack Storm, the Demon Eyed | ■ When you put this creature into the battle zone, reveal the top 3 cards of your deck. Put any number of Hunters from them into your hand and put the rest of the cards on the bottom of your deck in any order. |
| Leo Way, Earth Brethren | ■ Whenever you put one of your other Hunters into the battle zone, you may return a Hunter from your mana zone to your hand. |
| Miracle Re Born | ■ Put a Hunter creature that costs 7 or less from your graveyard into the battle zone. |
| Moel Go, Explosive Oni Princess | ■ When you put this creature into the battle zone, search your deck. You may take a Hunter from your deck, show it to your opponent, and put it into your hand. Then shuffle your deck. |
| Mother Alien | ■ Your Hunters can't be blocked; When your Hunters lose a battle, they stay in the battle zone instead of being destroyed. |
| Off Course Kaiser "Dragon" | ■ Your other Hunter creatures can't be attacked. |
| Onimaru "Ogre", Golden Dragon | ■ All of your Hunter and Alien creatures in the battle zone get Eternal Omega. |
| Saint Maria, Light Weapon | ■ At the end of your turn, untap all your Hunters in the battle zone. For each light Hunter creature untapped in this way, put the top card of your deck into your shield zone face down. |
| Yattare Pippi | ■ You may have your Hunters cost 1 less to summon. They can't cost less than 1. |
| Super Move! My Explosive Flame!! | ■ Each of your Hunters gets +3000 power and breaks an additional shield. If you have 7 or more Hunters, destroy all your opponent's creatures. |
Creatures that evolve from Hunters:
Families
Example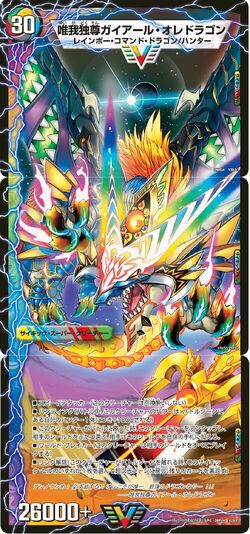 Races shared between the Civilizations