Holy Field is a keyword exclusive to cards that have Holy Soul.
Details
This is one of multiple abilities released in DM-36 Psychic Shock that is tied to the various Souls.
While it is primarily featured on creatures, it also appears on the Star Flash spell.
It is also Chakra, Temporal Thunder Dragon's Awaken requirement. This enables it to release and awaken instantly on the next turn if the opponent removes it and fails to break any shields, making it extremely durable.
The ability was later redesigned slightly for the Metallica race, as Labyrinth.
Reminder Text
The latest reminder text for Holy Field reads;
Holy Field
(If your opponent doesn't have more shields than you, this creature has its
ability.)
Example
Chakra, Temporal Thunder Dragon
Light / Psychic Creature / Apollonia Dragon / 7 / 5000
Blocker

■ This creature can't attack players.

■ Holy Field (If your opponent doesn't have more shields than you, this creature has its
ability.)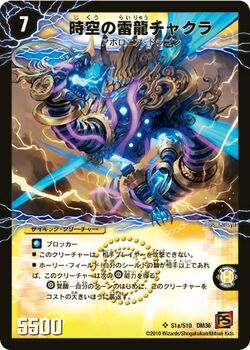 Cards with the ability
Rulings
Q: ホーリー・フィールド」という能力を持つクリーチャーがいますが。これはどのような能力ですか?

A: 相手のシールドの数と自分のをそれぞれ数えます。相手のほうが多ければ、「ホーリー・フィールド」能力は無視してください。自分のほうが相手以上にシールドを持っていれば、その「ホーリー・フィールド」能力を使えます。

Q: 「ホーリー・フィールド」能力にはどのようなものがありますか?

A: 「このクリーチャーはブロッカーを得る」というような常在型能力と、「このクリーチャーが破壊された時、カードを1枚引く」などのトリガー能力があります。前者はその都度相手と自分のシールドの数を比べてみて、自分が相手以上に持っていれば使える能力です。後者では、両プレイヤーのシールドの数はトリガーの時だけチェックが必要となり、発動後・効果実施前に相手のシールドの数が増えても、関係ありません。

Q: 相手も自分もシールドを1枚も持っていません。その場合、「ホーリー・フィールド」能力は使えますか?

A: はい、この場合、相手と自分のシールドが同じということなので、使えます。
Color percentages
There are a total of 9 cards with the Holy Field ability, which divide by civilization as such: