Graveyard evolution is an evolution keyword exclusive to Darkness Civilization evolution creatures.
Details
Rather than evolving over a creature in the battle zone, Graveyard evolution allows you to put the evolution creature into the battle zone over a darkness creature that is in your graveyard.
This is useful with Self Mill in order to evolve the creatures even faster. Lightweight Evolution creatures that use this evolution method are suitable in Darkness Nature rush due tho those decks being more suitable in milling themselves and they do not get summoning sickness as they are still evolution creatures.
Reminder Text
The latest reminder text for Graveyard evolution reads;
Graveyard evolution—Choose a darkness creature in your graveyard and put this card into the battle zone on top of that creature.
Example
Death March, Reaper Puppeteer
Darkness / Evolution Creature / Death Puppet / 1 / 1000
Blocker

■ Graveyard evolution—Choose a darkness creature in your graveyard and put this card into the battle zone on top of that creature.

■ Whenever this creature battles, your opponent's creature that battles this creature gets -4000 power until the end of that battle. (A creature that has power 0 or less is destroyed.)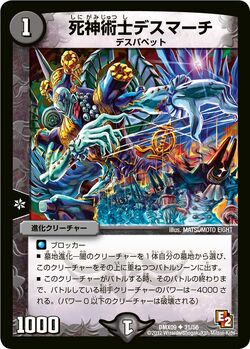 Cards with the Graveyard evolution ability
Color percentages
There are a total of 6 cards with the Graveyard evolution ability, which divide by civilization as such: