Galaxy Breaker is a Breaker keyword exclusive to 2 cards in the Darkness Civilization.
Details
When a creature with Galaxy Breaker attacks, all shields are broken (including your own.)
It first appeared on a Cross Gear named Galaxy Blade - THE FINAL, giving the crossed creature additional power and the Galaxy Breaker ability. It was later put on a creature named after it, THE FINAL Kaiser.
Reminder Text
The latest reminder text for Galaxy Breaker reads;
Galaxy Breaker
(This creature breaks all your opponent's shields. After the attack, break all your shields.)
Example
THE FINAL Kaiser
Darkness / Creature / Black Command Dragon + Hunter / 10 / 21000
■ Galaxy Breaker (This creature breaks all your opponent's shields. After the attack, break all your shields.)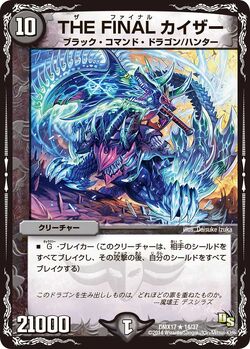 Cards with the Galaxy Breaker ability
Rulings
Q: 「G・ブレイカー」とはどのように使えばいいのですか?

A: 「G・ブレイカー」付きクリーチャーで相手を攻撃してブロックされなかった時、相手のシールドすべてがブレイクされます。シールドがいくつあるかは関係ありません。シールドは、1枚ずつ選びながらブレイクしていきます。ブレイクするたびに、「S・トリガー」が付いていれば相手はそれをプレイすることができます。

Q: 「G・ブレイカー」付きクリーチャーで相手を攻撃してブロックされませんでした。「S・トリガー」付きのシールドがブレイクされ、そのカードの効果で攻撃獣が場を離れることになりました。それでもシールドブレイクは続けて行われますか?

A: はい、バトルゾーンにもういない状態でも、相手のシールドすべてをブレイクし、その後自分のシールドをすべてブレイクします。

Q: 「G・ブレイカー」付きクリーチャーで相手を攻撃してブロックされませんでした。「S・トリガー」付きのシールドがブレイクされ、そのカードの効果で攻撃獣が場を離れることになりました。それでもシールドブレイクは続けて行われますか?

A: はい、バトルゾーンにもういない状態でも、相手のシールドすべてをブレイクし、その後自分のシールドをすべてブレイクします。

Q: 「G・ブレイカー」付きクリーチャーで相手を攻撃してブロックされませんでした。ブレイクしようとしたシールドには、「シールド・セイバー」などブレイクされない効果が付いていて、ブレイクされないことになりました。あとでもう一度、「G・ブレイカー」付きの攻撃獣でそのシールドをブレイクしてみると、ブレイクできますか?

A: できません。「G・ブレイカー」付きの攻撃獣は、それぞれのシールドを1回ずつしかブレイクできません。カードの効果などでシールドブレイクが達成されなかった場合、そのシールドはブレイクされないままです。

Q:「ブレイク・ボーナス」の能力は、「ギャラクシー・ブレイク」能力を持ったクリーチャーがアタックすると、自分のブレイクされたシールドも数に入りますか?

A: いいえ。入りません。 自分のシールドを破壊するのは攻撃の後となるため、自分のシールド分は入ることはありません。
Color percentages
There are a total of 2 cards with the Galaxy Breaker ability, which divide by civilization as such: