Duel Masters Cross: Episode Listing
Talk

0
11,873pages on
this wiki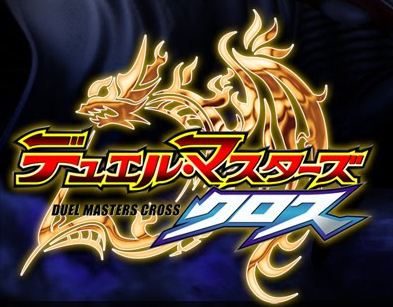 Duel Masters Cross (デュエル・マスターズ クロス) is the 5th Season of the Duel Masters Anime, following Duel Masters Zero.
Plot summary
Edit
Shobu and friends fight the remaining Fua Duelists in order to defeat Zakira. Once again, they face off against the old members of Fua Duelists at the World Championship tournament.
Shobu also found the terrible fate his friends faced because of these duelists in their past.
← Zero
Episode Guide - Duel Masters Cross
Cross Shock →
Duel Masters Cross

Screenshot

Episode Number

Japanese Title

English Title

Japanese Air Date

Episode 1
ザキラ来襲!!
Zakira Attack!!
April 5th, 2008
Episode 2
デリート!
Deletion!
April 12th, 2008
Episode 3
白凰死す!?
Death of the White Firebird!
April 19th, 2008
Episode 4
ザキラの野望
Zakira's Ambitions!
April 26th, 2008
Episode 5
デュエル・マスターの証
The Duel Master's Proof
May 3rd, 2008
Episode 6
闇眼
Dark Sight
May 10th, 2008
Episode 7
闇眼
Card Chase
May 17th, 2008
Episode 8
愛のデュエル
Duel of Love
May 24th, 2008
Episode 9
紫電ドラゴン
"Sword Flash" Dragon
May 31st, 2008
Episode 10
ザキラの怒り
Wrath of Zakira
June 7th, 2008
Episode 11
謎のピラミッド
Pyramids of Mystery
June 14th, 2008
Episode 12
見えない敵
Invisible Enemy
June 21st, 2008
Episode 13
W(ホワイト)
W (White)
June 28th, 2008
Episode 14
白凰との別れ
Farewell to the White Firebird
July 5th, 2008
Episode 15
再開
Resume
July 12th, 2008
Episode 16
クロスデッキ!
Cross Deck!
July 19th, 2008
Episode 17
だべべ村!
Which is Bebe Village?!
July 26th, 2008
Episode 18
大切なもの
Natural
August 2nd, 2008
Episode 19
発見!Dr.ルート!
Found! Dr. Root!
August 9th, 2008
Episode 20
トトの誤算
Toto's Miscalculation
August 16th, 2008
Episode 21
ピラミッド炎上!
Burning Pyramid!
August 23rd, 2008
Episode 22
告白
Confession
August 30th, 2008
Episode 23
W(ホワイト)襲撃
W (White) Attack
September 6th, 2008
Episode 24
ザキラ復活
Zakira's Resurrection
September 13th, 2008
Episode 25
決意
Commitment
September 20th, 2008
Episode 26
死闘!ザキラ
Fight to the Death with Zakira!
September 27th, 2008
Episode 27
謎のバケツマン
Bucketman's Mystery
October 4th, 2008
Episode 28
命がけのデュエル
The Desperate Duel
October 11th, 2008
Episode 29
海上のピラミッド
Pyramid of the Sea
October 18th, 2008
Episode 30
沈没
Sinking
October 25th, 2008
Episode 31
幽…
Yuu...
January 11th, 2008
Episode 32
呪い
Curse
November 8th, 2008
Episode 33
ドラゴンの導き
The Guidance of Dragon
November 15th, 2008
Episode 34
剣誠ドラゴン
Kensei Dragon
November 22th, 2008
Episode 35
黒城再誕!
Kokujo Returns!
November 29th, 2008
Episode 36
死神が生まれた日
The Day When the Dead God is Born
December 6th, 2008
Episode 37
ヴァルキリアス・ムサ
Valkyrias Musashi
December 13th, 2008
Episode 38
勝利死す!?
Shori dies!?
December 20th, 2008
Episode 39
すてられた愛
Abandoned Love
December 27th, 2008
Episode 40
愛の力
Power of the Love
January 10th, 2009
Episode 41
ミミとW
Mimi and W(White)
January 17th, 2009
Episode 42
ミミの想い
Thought of Mimi
January 24th, 2009
Episode 43
死神の復讐
The Revenge of the God of Death
January 31st, 2009
Episode 44
白鳳の決意
Hakuoh's Determination
February 7th, 2009
Episode 45
イエスマンの最期
The Last Moments of Yesman
February 14th, 2009
Episode 46
ヤサエル
Yaesar
February 21st, 2009
Episode 47
バケツマンと幽
Bucketman and Yuu
February 28th, 2009
Episode 48
バケツマンの声
A Voice of the Bucketman
March 7th, 2009
Episode 49
絶体絶命!
A Desperate Situation!
March 14th, 2009
Episode 50
証の力
Power of "The Proof"
March 21th, 2009
Episode 50.5
特別編『召喚スペシャル!
Special Edition! Special Summon!
March 28th, 2009
Episode 51
ボルシャック・NEX
Bolshack NEX!
April 4th, 2009
Episode 52
勝舞暴走
Runaway Shobu
April 11th, 2009
Episode 53
白凰の切札
Hakuoh's Trump
April 18th, 2009
Episode 54
勝舞との出会い
Meeting with Shobu
April 25th, 2009
Episode 55
白凰の過去
Hakuoh's Past
May 2nd, 2009
Episode 56
本当の強さ
The True Strength
May 9th, 2009
Episode 57
神羅ドラグ・ムーン
Drag Moon, the Enlightened!
May 16th, 2009
Episode 58
究極進化
The Ultimate Evolution
May 23th, 2009
Episode 59
氷の島のサザンクロス
Southern Cross in an Island of Ice
May 30th, 2009
Episode 60
受け継がれた闇
Inherited Darkness
June 6th, 2009
Episode 61
れく太の弱点
Rekuta's Weakness
June 13th, 2009
Episode 62
爆進化コンボ
Evolution Burst Combo
June 20th, 2009
Episode 63
予選開始
Starting Preliminaries
June 27th, 2009
Episode 64
マナ破壊
Mana Destruction
July 4th, 2009
Episode 65
宿命のライバル
Rival of Fate
July 11th, 2009
Episode 66
龍牙の告白
Ryoga's Confession
July 18th, 2009
Episode 67
謎のデュエリスト
Mysterious Robot
July 25th, 2009
Episode 68
れく太の戦い
Rekuta's War
August 1st, 2009
Episode 69
ジョージとキャサリン
George and Catherine
August 8th, 2009
Episode 70
ママンとの別れ
Farewell to Mama
August 15th, 2009
Episode 71
幽との出会い
Encounter with Yuu
August 22nd, 2009
Episode 72
喜びのデュエマ
Duel of Pleasure
August 29th, 2009
Episode 73
眠れる強敵
The Powerful Enemy who Sleeps
September 5th, 2009
Episode 74
目覚めよ!勝舞
Wake up, Shobu!
September 12th, 2009
Episode 75
牛次郎、現る
Gyujiro Appears
September 19th, 2009
Episode 76
罠
Trap
September 26th, 2009
Episode 77
目覚めろ!白凰
Awaken! White Firebird
October 3rd, 2009
Episode 78
約束
Promise
October 10th, 2009
Episode 79
馬太郎の秘密
Taro's Secret Horse
October 17th, 2009
Episode 80
怒りのデュエマ
Angry Duel
October 24th, 2009
Episode 81
小さな世界大会
Small World Tournament
October 31st, 2009
Episode 82
守り合うデッキ
Keep Fit Deck
November 7th, 2009
Episode 83
対決!ドラゴンマスク
Showdown! Dragon Mask
November 14th, 2009
Episode 84
最強の弱点
Strongest Weakness
November 21st, 2009
Episode 85
デュエマ島へ
To the Duel Island
November 28th, 2009
Episode 86
不気味な野獣
A Scary Beast
December 5th, 2009
Episode 87
魔法少女
Magical Girl
December 12th, 2009
Episode 88
恐怖
Fear
December 19th, 2009
Episode 89
迫り来る脅威
Looming Threat
December 26th, 2009
Episode 90
起て!龍牙!!
Arise! Ryouga!!
January 9th, 2010
Episode 91
二回戦開始!!
Round Two Begins!!
January 16th, 2010
Episode 92
魔法少女との死闘!!
A Death Match with a Magical Girl!!
January 23rd, 2010
Episode 93
因縁の対決
Showdown of Fate
January 30th, 2010
Episode 94
ママンの愛
Mama's Love
February 6th, 2010
Episode 95
ゲドー
Gedo
February 13th, 2010
Episode 96
動揺」
Unrest
February 20th, 2010
Episode 97
心の傷
Bruise
February 27th, 2010
Episode 98
ネバー
Never
March 6th, 2010
Episode 99
ミミの決意
Mimi's Determination
March 13th, 2010
Episode 100
対決!キルミー!!
Showdown! Kirumi!!
March 20th, 2010
Episode 100.5
俺達のクリーチャー!
Summon! Our Creatures!
March 27th, 2010