Deep Marine is a race of creature shared between the Water and Darkness civilizations.
Gameplay
This race is introduced as part of the cycle of races during the Phoenix Saga.
Most Deep Marine creatures have effects that are based upon Grand Devils. They are similar in effect to the interaction of Brave Spirit and Tyranno Drake.
Support
| Support Card: | Card Effect: |
| --- | --- |
| Algo Bardiol, Devil Admiral | ■ When you put this creature into the battle zone, reveal the top 3 cards of your deck. Add all revealed Grand Devil and Deep Marine to your hand, then put the rest on the bottom of your deck in any order. |
| Fuuma Algors Vaison | ■ When you put this creature into the battle zone, look at the top 3 cards of your deck. From among them, you may put a Deep Marine that costs 3 or less into the battle zone, and return the rest to the top of your deck in any order. |
| Fuuma Soul Avals | ■ Whenever this creature is attacking your opponent and isn't blocked, choose a non-evolution Grand Devil or non-evolution Deep Marine from your graveyard and put it into the battle zone. |
| Gigandol, Evil Obstacle | ■ When you put this creature into the battle zone, reveal the top 3 cards of your deck. Put all revealed Grand Devil and Deep Marine into your graveyard, then put the rest on the bottom of your deck in any order. If no Grand Devil or Deep Marine are revealed, destroy this creature. |
Creatures that evolve from Deep Marines
Example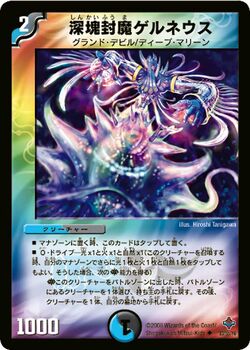 Races shared between the Civilizations