DMSP-01 Fancy! Grandy!! JoeDeckie BOX!!
ステキ! カンペキ!! ジョーデッキBOX

Translation:
DMSP-01 Fancy! Grandy!! JoeDeckie BOX!!?
Gallery:
DMSP-01 Card Set Gallery
Rulings:
Set FAQ
Release Date:
July 8th, 2017
Next Set:
DMSP-02
Block:
Duel Masters
Set Symbol:
Fancy! Grandy!! JoeDeckie BOX!! is the 1st DMSP pack in the OCG.
Details
It contains 48 types of cards, a comic, a booklet about how the civilization strategies work, a poster about the civilization techniques and a storage box.
Comic Story
Due-Man does not know how to build a deck and often loses to kids, so Deckie appears and teaches him the civilization techniques. He teaches the techniques and introduces all 6 of the high rarity cards by Jokers > Light > Fire > Darkness > Nature > Water order. Then Due-Man decides to add all 6 of them into his deck and the 6 trump cards squash Dueman below them because he added too many cards, angering Decky because of Due-man's foolishness.
Contents
Gallery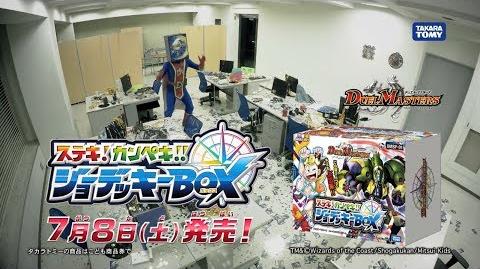 Trivia
Ad blocker interference detected!
Wikia is a free-to-use site that makes money from advertising. We have a modified experience for viewers using ad blockers

Wikia is not accessible if you've made further modifications. Remove the custom ad blocker rule(s) and the page will load as expected.