Brave Spirit is a race of creature shared between the Darkness and Fire civilizations.
Gameplay
This race is introduced as part of the cycle of races during the Phoenix Saga.
They each give additional effects to a Tyranno Drake creature. They are similar in effect to the interaction of Deep Marine and Grand Devil or Saint Head and Arc Seraphim.
Support
Creatures that evolve from Brave Spirits
Example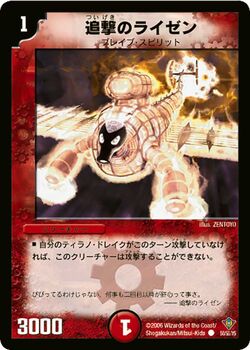 Races shared between the Civilizations
Ad blocker interference detected!
Wikia is a free-to-use site that makes money from advertising. We have a modified experience for viewers using ad blockers

Wikia is not accessible if you've made further modifications. Remove the custom ad blocker rule(s) and the page will load as expected.