Blue Monster is a race of Monster creature in the Water Civilization.
Nomenclature
Most of them feature "Deepsea" (シンカイ, Shinkai) at the beginning of their name.
Details
The race is named after Blue Poseidon, Sea God, a God creature from the DM-27 Perfect Heaven set.
Support
Blue Monsters don't feature any support cards or evolution creatures
See also: Support for Monster creatures
Example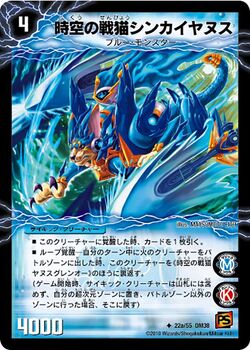 Ad blocker interference detected!
Wikia is a free-to-use site that makes money from advertising. We have a modified experience for viewers using ad blockers

Wikia is not accessible if you've made further modifications. Remove the custom ad blocker rule(s) and the page will load as expected.